ECEMF 2021: A Venetian Virtuoso
Friday 8th October | 7:30pm

Curtis Auditorium, MTU Cork School of Music
The Cork Baroque Players featuring Leonie Curtin & Caitríona O'Mahony bring to life a touring virtuoso of the 18th century, with a sparkling early-classical programme by Venetian violinist Maddalena Lombardini.
Presented in association with East Cork Early Music Festival
---
Tickets: €15 (standard) | €12 (COS members) | €5 (students)


---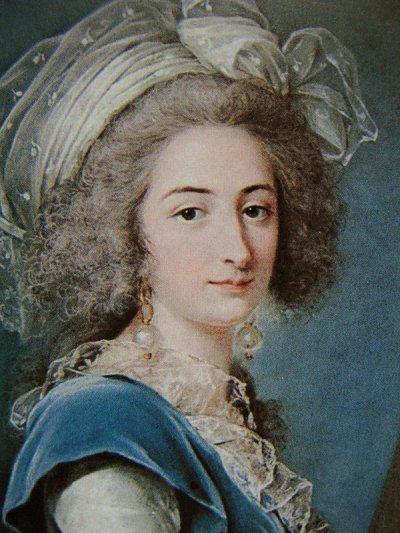 Born in Venice, Maddalena Lombardini was a product of the ospedalì, girls' orphanages which specialised in teaching music (famously Vivaldi's Ospedale della Pietá). Showing considerable talent at a young age, she was granted permission to study with the famous violinist Giuseppe Tartini, and travelled to take lessons with him in Padua. In a period in which female opera singers were common, professional female violinists were rare – most of Lombardini's contemporaries either left the ospedale to marry, or stayed in it to pursue music.
Lombardini chose both – when she came of age at 21, she received her maestro licence, and married fellow violinist Ludovico Sirmen, the couple setting off to tour Europe as a pair of virtuosi, often playing double concertos. Lombardini published two sets of solo violin concertos which survive and gained significant popularity – enough that they were adapted into a set of harpsichord concerti by composer Tommaso Giordani (who was later Music Director of Smock Alley Theatre in Dublin) shortly after their publication. Her duets are similarly charming works in the classical style, with much swapping of melodic material between the 2 violins.
---
Programme
Maddalena Lombardini (1745-1818)
Violin Concerto Op. 2 No. 1 in B Flat Major (Soloist: Caitríona O'Mahony)
Violin Duet Op. 5 No. 6 in C Major (Violins: Marja Gaynor, Caitríona O'Mahony)
Violin Concerto Op. 2 No. 3 in A Major (Soloist: Leonie Curtin)
Cork Baroque Players
Leonie Curtin, Marja Gaynor and Caitríona O'Mahony, violins
Cian MacGarry, viola  |  Norah O'Leary, cello
Ellen Bolger, harpsichord
---
Leonie Curtin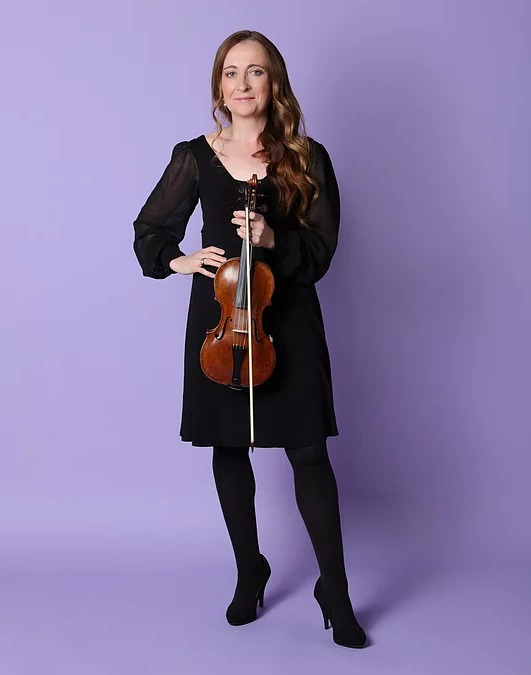 Originally from Cork, Leonie Curtin graduated from the Guildhall School of Music and Drama in 1998, where she studied with Yfrah Neaman and Jack Glickman, with a distinction in performance.  She was awarded the Crompton Prize in her final recital for solo Bach.  Following this, she embarked on a Masters degree in performance at the University of Illinois in the USA, studying under Prof. Sherban Lupu.  She was awarded a graduate assistantship and also led the Graduate String Quartet, which represented the University.
While in America, Leonie played with the Illinois Symphony Orchestra and Sinfonia da Camera and played in many of the University's New Music ensembles.  She was the Outstanding Graduate Performer in 1998 and also performed at the Iowa New Music Symposium in the same year.
On returning to Ireland Leonie took up a teaching position at the Royal Irish Academy of Music where she taught for eight years.  She was also the Director of Junior Strings from 2001-2004.  Leonie has played regularly with the Irish Chamber Orchestra, the National Symphony Orchestra of Ireland, the Ulster Orchestra, Opera Theatre Company, Crash Ensemble and VOX21. She, with cellist Kate Ellis, also set up the Bridgewood Ensemble, a New Music group, which performed in countries including America and South Africa.
While living in London, as well as teaching at Junior Guildhall from 2005 to 2011, Leonie  concentrated on Early Music. She now performs with groups such as the Irish Baroque Orchestra, the Orchestra of the Age of Enlightenment, La Serenissima, the New London Consort, the Gabrieli Consort, the Dunedin Ensemble, the Sixteen and the Avison Ensemble.
Caitríona O'Mahony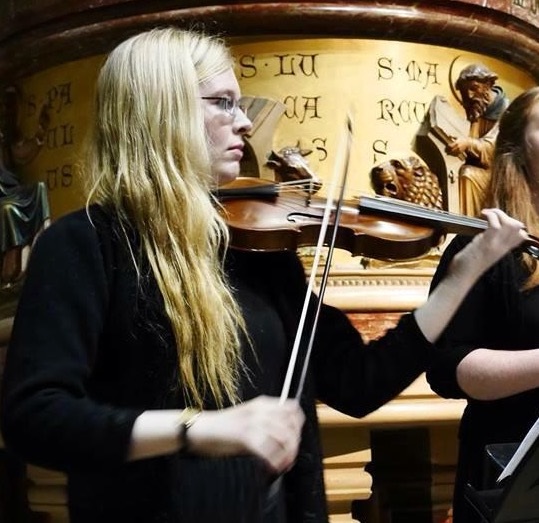 Caitríona O'Mahony is a violinist, violist, educator, and artistic director from Cork.
Initially studying modern violin and viola with Ruxandra Petcu-Colan and Simon Aspell at the Cork School of Music, she later specialised in historical performance with Walter Reiter and Kati Debretzeni at the Koninklijk Conservatorium Den Haag, and was awarded a Masters in Early Music Performance from the Royal Irish Academy of Music studying under Claire Duff. She has been known to try her hand at any variety of bowed strings, and loves viola d'amore and viola da gamba.
Caitríona has played with Irish ensembles including the Irish Baroque Orchestra, Camerata Kilkenny, Sestina Chamber Ensemble and the Cork Baroque Orchestra, as well as European ensembles including the Orchestra of the Eighteenth Century, and Ensemble Marsyas. She has had the pleasure of working with renowned international soloists including Dame Emma Kirkby, Mark Padmore, Elizabeth Wallfisch and Monica Huggett. A recent favourite project was recording the full cycle of Heinrich Biber's Mystery Sonatas for 3 online concerts, with organist James Taylor.
She performs and programmes with rising Irish early music group Ensemble Dagda, described as "full of promise" [Irish Times]. With the group, she has been invited to programme and perform concerts for festivals and series including West Cork Chamber Music, Encanto Salon Festival Helsinki, East Cork Early Music, Music for Wexford, St. Barrahane's Festival of Music, and Kaleidoscope Night.
Her research focuses on performance practice in Ireland in the eighteenth-century, patronage of music amongst the Anglo-Irish landowners of Munster, and music by women composers in the seventeenth and eighteenth centuries. As Artistic Director of East Cork Early Music Festival, she is concerned with communicative experiences for audiences and musicians, and enjoys creating programmes with specific reference to historic spaces or art, programmes with strong narratives, and programmes uniting different genres. She has also enjoyed creating family-friendly interactive concerts, introducing young audiences to early music.
---