The Fleischmann Choir
Venue
St. Michael's Church
Blackrock
Date
Sun 22 October 2017 - 7:00 pm
Admission
€15 / €12 / €10 / €5 (Under 18s free)
THE CIT Fleischmann Choir, with organist James Taylor and conductor Conor Palliser, perform one of the most serenely beautiful works in the western musical canon, Gabriel Fauré's Requiem. The exquisite 5 Hymns, Op.140, by Fauré's contemporary Joseph Rheinberger, complete a heavenly programme of ravishing sacred music.
---
Programme:
Fauré: Requiem, Op.48
Rheinberger: Hymnen, Op.140
Fleischmann Choir
James Taylor | Organ
Conor Palliser | Conductor
---
Tickets:
€15 (General admission) | €12 (Concessions)
€12 (COS standard member) | €10 (COS concession member)
€5 (Students) | Under 18s: Free admission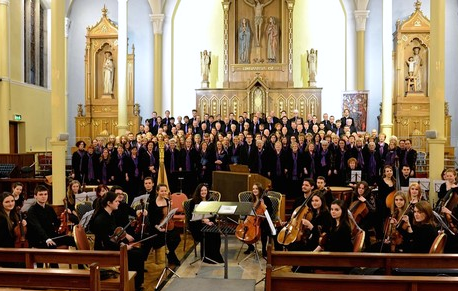 ---
The Fleischmann Choir is a large oratorio choir undertaking major works under the directorship of Conor Palliser. The choir is a class of the Cork School of Music and aims to perform large-scale repertory for mixed voices with accompaniment, usually orchestra, to the highest possible standards.
---
Gabriel Fauré: Requiem
In his seven-section Requiem, the French composer Gabriel Fauré distilled some of the most beautiful melodies he ever composed. The creation was almost certainly a musical tribute to his father, who died in 1885, three years before work on the Requiem began.
As with much of Western classical music, the Requiem owes its roots to Christian faith. Traditionally, at its heart, it is a prayerful lament for the dead. Fauré's Requiem was altogether different, though, because here was a composer who, unlike many of his contemporaries, had no clear religious beliefs. By contrast, he was very much a doubter, described by his own son as 'a sceptic'. In place of the sombre nature of many requiems that had gone before, Fauré's is noted for its calm, serene and peaceful outlook. Anyone looking for morose themes is searching in the wrong place. Instead, here we find musical solace in a work that focuses not on the morbid, but on the supposedly restful and fear-free nature of death.
Of all seven sections, the Pie Jesu, Agnus Dei and In Paradisum emerge as the most glorious, filled with rich, soulful melodies. The work garnered the praise of many other composers – not least Camille Saint-Saëns, who thought it divine. It was performed at Fauré's own funeral in 1924. (Source: Classic FM)
---