COS Brass & Wind Series: Michael Marshall and Brian Connor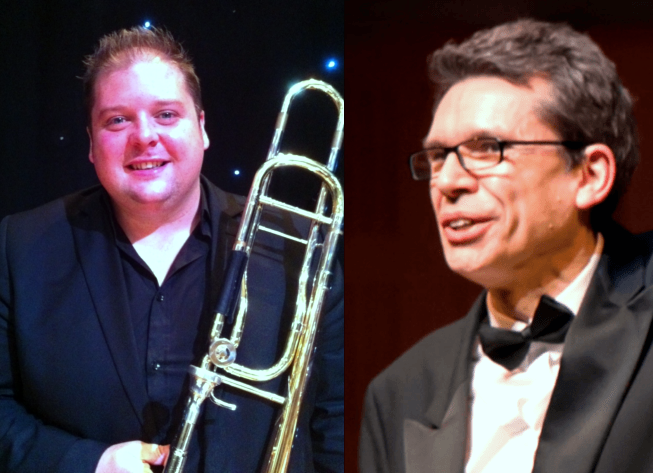 Venue
Curtis Auditorium
CIT Cork School of Music
Date
Thu 15 March 2018 - 8:00 pm
Admission
€20 / €15 / €10 / €5
Virtuosic Cork-born trombonist Michael Marshall is one of Ireland's most versatile brass players, equally at home in a symphony orchestra, jazz big band, or the pit of a west end musical. Long recognised as a leading pianist, producer and arranger, Brian Connor's international career has embraced theatre, the recording studio and concert venues.
---
Programme:
Robert Schumann: Romance, Op.28
Eric Ewazen: Sonata for Trombone and Piano
J.S. Bach: Prelude No.8 (trans. Heitor Villa-Lobos)
Arvo Pärt: Spiegel im Spiegel
Howard Skepton: Well, Well, Cornelius (solo piano) 
Duke Ellington: Mood Indigo
John Lewis: Django
Jan Sandström: A Christian Song
Michael Marshall, trombone
Brian Connor, piano
---
Tickets:
€20 (General admission) | €15 (Concessions | COS members)
€10 (COS concessionary members) | €5 (Students)

---
This concert is part of the COS Brass & Wind Series, also featuring Cork Philharmonic Winds with Gary Curtin (euphonium) on March 24th, and Winds of Change (wind quintet) on April 12th. Cork Orchestral Society is delighted to offer a special three-for-two bundle offer on tickets for all three concerts in the series. To avail of this special limited offer, please click on the green button below.
€40 (General admission)
€30 (Concessions | COS members)
€20 (COS concessionary members) 
---
Michael Marshall – Trombone 
Michael Marshall began playing the trombone with the Mayfield Brass Band in Cork when he was 9. Three yeas later he joined the Cork School of Music and was a student there until he graduated with a BMus in 2001. In 2003 he graduated from the Guildhall School of Music and Drama in London with an MMus and after this received the Archers Jazz Scholarship at Trinity College London, specializing in music of the big band era.
Michael has been a freelance trombonist in London and Ireland for the past ten years and has played in many different ensembles, styles and genres. Some include, both the RTE Symphony and Concert Orchestra, Irish Chamber Orchestra, Wexford Festival Opera, Ulster Orchestra, Crash Ensemble, Royal Philharmonic Orchestra, Bournemouth Symphony, Liverpool Philharmonic, Cyprus Symphony, and the Tenerife Symphony.
Michael has also been involved in a lot of musical theatre in west end musicals and touring musical productions, some of which include Fame, Chicago, Annie, Legally Blonde, Chitty Chitty Bang Bang, White Christmas, Fiddler on The Roof and many more. He has played with the Glenn Miller UK Big Band, Jay Craig Big Band, Bobby Lamb Big Band and is a member of The Bones of Cork.
Michael was appointed Associate Principal Trombone with the RTE Concert Orchestra in November 2011.
---
Brian Connor – Piano
Pianist, producer, arranger and composer Brian Connor studied piano with Professor John O'Conor at the Royal Irish Academy of Music, Dublin. A major focus of his career has been his collaborations with singers, leading to performances and recordings with artists such as Ute Lemper, Danielle de Niese, Sinead O'Connor, Van Morrison, Agnes Bernelle, and jazz vocalists Claire Martin and Jacqui Dankworth. As an improvising jazz performer, he has been featured at festivals in Europe and America and broadcast on BBC Radio 3, the Canadian Broadcasting Corporation and RTE. He has served as Musical Director for many television broadcasts in Ireland and the United Kingdom.
An area of special interest is Music and Theatre, leading to his role as Musical Director of the National Theatre of Ireland's centenary celebrations in 2004 – 'Abbey100' (Abbey Theatre, Dublin). For the British Council he composed and recorded the soundtrack to actress Diana Quick's award winning translation/performance of Simone de Beauvoir's 'A Woman Destroyed' (Theatre Royal, Bath and touring). He has been Musical Director in the West End (The Albery Theatre), in Chicago (The Cadillac Theater), and on Broadway (The Hilton Theater) where he worked as associate musical director with Alain Boublil and Claude Michel Schonberg. He was Musical Director of 'Riverdance – The Show' in the UK, Europe and USA. In 2014 he completed an Arts Council funded collaboration with singer/artist Suzanne Savage, which resulted in the composition of a new work based on a German folk song setting by Brahms – 'Schwesterlein'. This project was facilitated by the Zentrum fur Neue Medientechnologie in Karlsruhe, Germany.
He has produced many albums for singers in Ireland, Norway and Germany, and in 2002 produced 'Yola' for Irish singer/songwriter Eleanor McEvoy which was awarded 'UK Hi Fi Album of the Year'. For Irish performer Freddie White he produced the much loved album 'Four Days in May', and for Norwegian artist Tom Aadland he produced 'Blod pa Spora' a reworking of Bob Dylan's classic album 'Blood On the Tracks' in Nynorsk – the traditional language of Norway. Recently he curated and performed in a series of concerts in which performers from various disciplines were encouraged to engage with each other in unique ways – through movement, presentation skills, 'shared leadership' roles and informal engagement with the audience. These concerts explored the themes of Politics & Music, Music & Memory, and the Role of the Songwriter and included material by Rzewski, Bartok, John Cage and Jimmy Durante.
In 2016 he orchestrated a selection of Irish songs for international soprano Danielle de Niese, presented a concert of music by John Cage and Arvo Part with contemporary Cunningham inspired dance, gave the premiere performance of Shaun Davey's song cycle 'Nora' at the National Concert Hall, Dublin, and performed a concert of new music by Ola Gjeillo at the Hugh Lane Gallery, Dublin, with vocal ensemble Ardú. For Wexford Opera Festival he improvised and played a live piano soundtrack to the great vintage horror film 'Nosferatu', and made recordings with Julian Lloyd Webber, Dublin band Tupelo, and the Irish Film Orchestra.
---