Our first online concert features a newly-founded Cork ensemble, 13 Strings, performing sublime works for strings by Telemann, Mozart, Mendelssohn and Grieg.
This concert was available to view from January 23rd to February 20th 2021.
---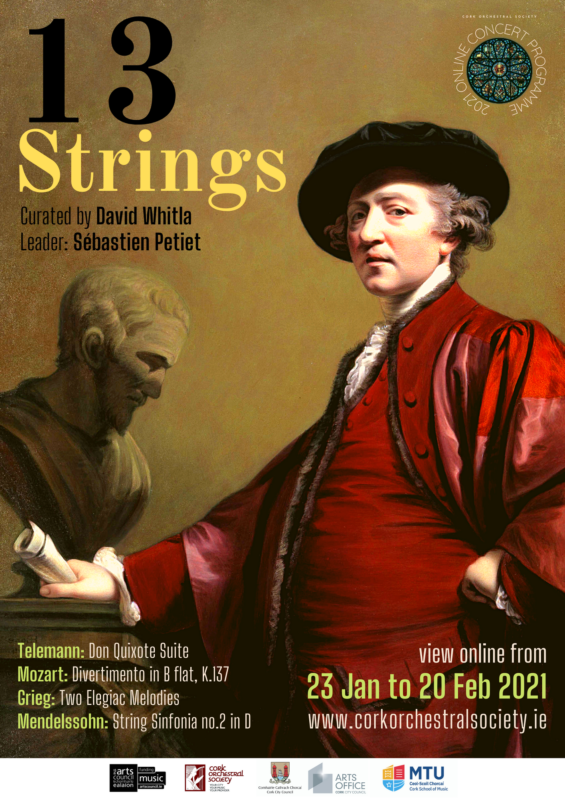 Programme:
G. P. Telemann (1681-1767)
Don Quixote Suite, TWV55:G10
W. A. Mozart (1756-1791)
Divertimento in B flat major, K.137 (K.125b)
Edvard Grieg (1843-1907)
Two Elegiac Melodies. Op.34
Felix Mendelssohn (1809-1847)
String Sinfonia no.2 in D major
13 Strings
Curated by David Whitla
---
View or download programme notes here: 13 STRINGS programme notes
---
The Musicians:
Violin 1:
Sébastien Petiet (leader), Brendan Garde, Maria Ryan and Rachael Masterson
Violin 2:
Hugh Murray, Christine Kenny, Carol Quigley and Lyn O'Reilly
Viola:
Cian Ó Dúill and Niamh Quigley
Cello:
Aoife Burke and Yseult Cooper Stockdale
Double Bass:
David Whitla
---
The newly-founded Cork ensemble, 13 Strings is curated by Canadian musician, David Whitla, the full time double bass instructor at the MTU Cork School of Music and a former member of the RTÉ National Symphony Orchestra. Whitla records and performs regularly as an extra with the Irish Chamber Orchestra, and has appeared on numerous other albums and soundtracks.
Joining Whitla at the ensemble's core is leader of the first violin section of 13 Strings, Sébastien Petiet. Born in France, Petiet grew up in west Kerry, where he learned traditional Irish music from local musicians. A multi-instrumentalist, he plays most acoustic string instruments, both bowed and plucked. Petiet also spent 21 years as a violinist with the RTÉ Concert Orchestra.
---
Filmed by Barra Vernon, Robin Guiton and Paraic English.
Audio recorded and mixed by John Fitzgerald.
Special thanks to MTU Cork School of Music.
Cork Orchestral Society is funded by Cork City Council and the Arts Council of Ireland.