Sunday 3 December | 6.30pm
St Finbarr's South Church (South Parish), Dunbar Street, Cork City

Tom Doyle directs the large, mixed-voice Fleischmann Choir in performances of Marc-Antoine Charpentier's Te Deum, his best known work largely because of the great popularity of its prelude; Saint-Saëns recently rediscovered motet Super flumina Babylonis; and Schubert's only setting of the Magnificat, a work divided into three distinct movements, forming a musical triptych. Soloists are Emma Nash and Sinéad Ní Mhurchú (sopranos), Ross Scanlon (tenor) and Brendan Collins (baritone).
The "Te Deum" (H 146) is unquestionably the best known composition of Marc-Antoine Charpentier (1643–1704), especially since its "Prélude en rondeau" was made the Eurovision signature tune. This brilliant and magnificent piece was frequently played at victory celebrations and other occasions of public jubilation during the 17th century. Even today it is still ideal for festive church services and concerts.
"Super flumina Babylonis", is a recently rediscovered choral work by Camille Saint-Saëns. Psalm 137 "Super flumina Babylonis" also known as "By the rivers of Babylon" was an inspiration for many composers including Saint-Saëns. Originally composed in 1854 when he had taken up his first permanent appointment as organist at the Church of Saint-Merri in Paris, Saint-Saëns revised the work over a period of several decades, changing the motifs at the beginning, reworking the ending, eventually changing the instrumentation several times too and even – probably in the final stage – replacing the Latin text with an English one.
With a duration of about 10 minutes, Schubert's Magnificat D 486 in C major is one of the more concise settings of the well-known Marian canticles, originally for the service of Vespers. It was composed in late summer 1815, and is therefore probably one of a series of church music works Schubert wrote in his youth for Lichtenthal Parish Church. The four-part choir contrasts with four soloists; this quartet sings the peaceful middle section of the three-section work.
---
Tickets:
€15 (General Admission) | €12 (Concessions)
€10 (COS members) | €5 (Students) | Under-18s free

---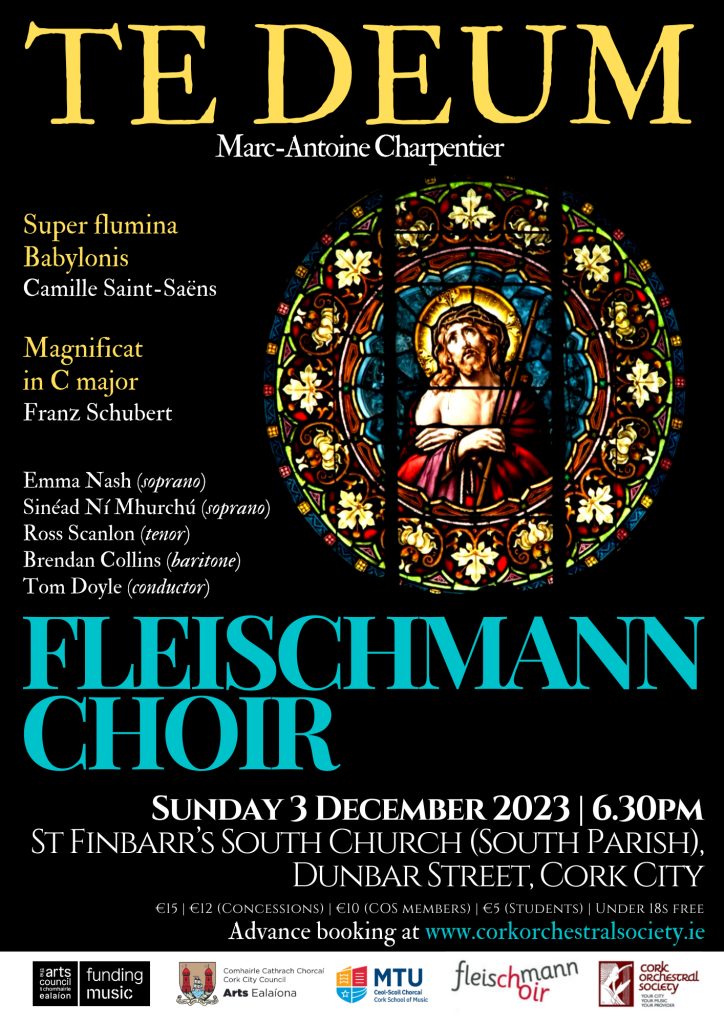 Programme:
Marc-Antoine Charpentier [1643-1704]
Te Deum (H146)
Camille Saint-Saëns [1835-1921]
Super flumina Babylonis
Franz Schubert [1797-1828]
Magnificat in C major (D486)
The Fleischmann Choir
Emma Nash (soprano)
Sinéad Ní Mhurchú (soprano)
Ross Scanlon (tenor)
Brendan Collins (baritone)
Tom Doyle (conductor)
---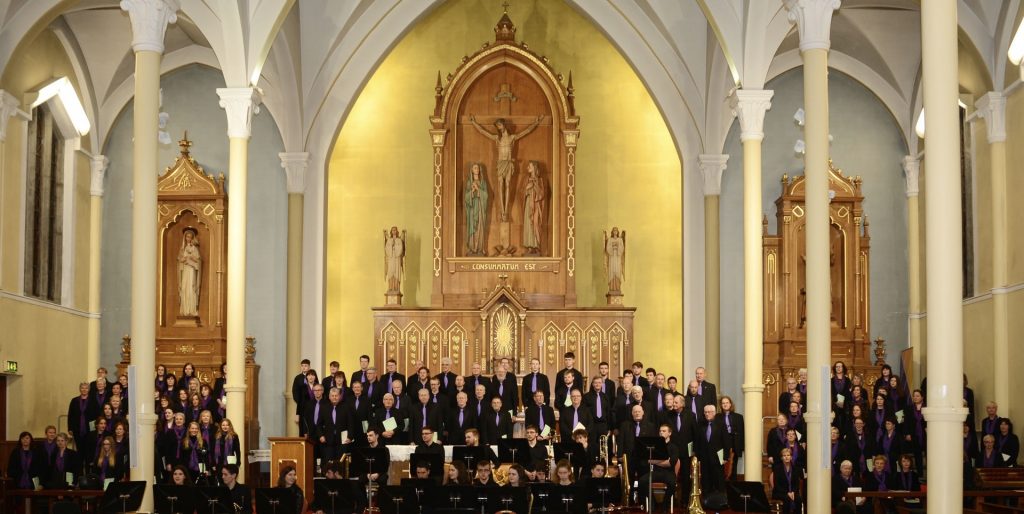 The Fleischmann Choir was founded in November 1992. Initially called the Cork School of Music Symphony Orchestra Chorus, it sang in public for the first time on 22 April 1993 when it gave a concert with the RTÉ Concert Orchestra in Cork's City Hall to mark the opening of the 40th Cork International Choral Festival. The programme was of music by Aloys Fleischmann – one of the founders of the Festival – who had died the previous year. Shortly after this concert, and with the permission of the family, the choir was renamed in memory of the man who did so much to further the cause of choral music and choral singing in Ireland. From 1992 to 2013, the choir was led by founder-conductor Dr Geoffrey Spratt (former Director of the Cork School of Music and founder-conductor of the Irish Youth Choir and Canticum Novum). In 2013, Conor Palliser was appointed conductor; and since September 2022, the choir has been under the direction of Tom Doyle.
The Fleischmann Choir has achieved an enviable reputation for fulfilling its mission to perform the large-scale repertory for choir and orchestra. Past concerts have included Puccini's Messa di Gloria, Vaughan Williams' Towards the Unknown Region, Poulenc's Gloria, Brahms' Ein Deutsches Requiem, Dvořák's Te Deum, Stabat Mater and Mass in D, Finzi's Intimations of Immortality, Tippett's A Child of Our Time, Honegger's Christmas Cantata, and Karl Jenkins' The Armed Man: A Mass for Peace. In addition, the choir has accepted invitations as diverse as 'Songs of Praise' for the BBC, backing Johnny Logan during the Eurovision Song Contest broadcast by RTÉ from Millstreet, Co. Cork, and singing with Niamh Kavanagh for her RTÉ Christmas Show from Cork Opera House. The choir tours regularly with past performances in Como, Italy, and Cologne, Germany.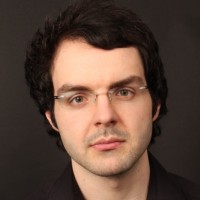 A graduate of both UCC and MTU Cork School of Music, Tom Doyle is highly sought after as a musical director and pianist in Cork City and its environs. With a keen interest in both musical theatre and opera, Tom's credits as musical director have included The Stalls (Ulysses Theatre Company & Cork Midsummer Festival), Pubcrawl: the Musical (Chattyboo Productions), American Idiot (CIT Musical Society), Songs for a New World (Hibernian Ensemble), The Opera Director based on Mozart's Der Schauspieldirektor, The Last Five Years (Scruffy Duck Productions), Ragtime (UCC Dramat) and [title of show] (UCC Dramat).
As a choral enthusiast, Tom has had the pleasure of working with the Blackpool Parish Choir, Mayfield Gospel Choir, Cork ETB Youth Choir, the workplace choirs at Musgraves and Cork County Council, Munster Rugby Supporters Club Choir, Cantate, the choir at Presentation Secondary School Ballyphehane, the Wilcollane Singers, and the Cork Garda Male Voice Choir. From 2008 – 2015, Tom conducted the UCC Choral Society, helping to produce the ever-popular 'Carols by Candlelight' in the Honan Chapel as well as winning several awards at international competitions in Ghent, Verona and Olomouc.
An accomplished pianist and répétiteur, Tom has worked with many singers including the late Cara O'Sullivan, Majella Cullagh, Mary Hegarty, Emma Nash, and Jean Wallace, as well as ensembles such as Irish Youth Opera and Cork Operatic Society. In 2015, Tom was invited as guest conductor for the Cork Concert Orchestra's Mozart to Morricone concert series; and in early-2022, he was appointed conductor of the University of Limerick Orchestra.
Tom is the acting Conservatoire Coordinator at MTU Cork School of Music where he also lectures in conducting and directs the 100-strong Fleischmann Choir.
---