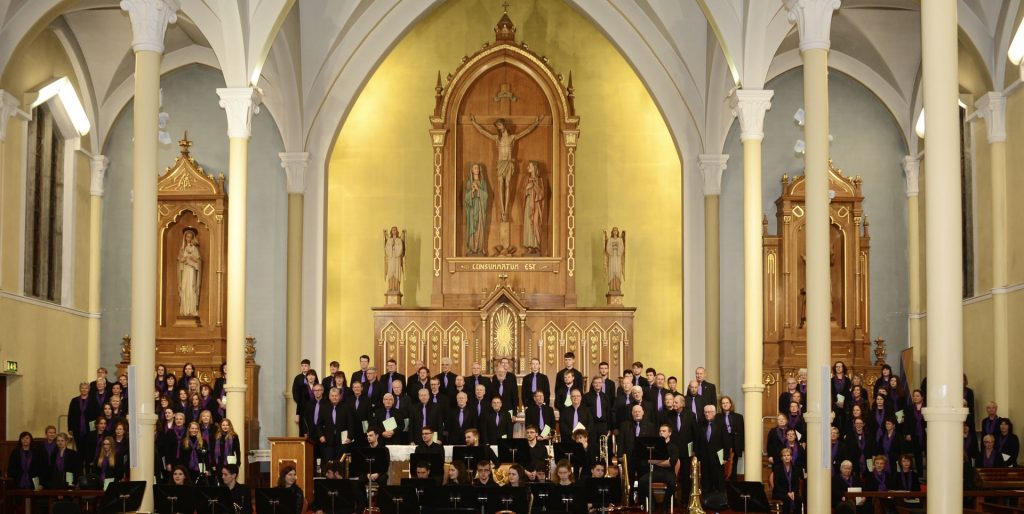 The Fleischmann Choir and Cappella Lyrica join the CSM Symphony Orchestra for performances of Elgar's "The Black Knight", a symphony for chorus and orchestra which brings the listener on a journey to a mysterious medieval court filled with Knights and Kings and a mysterious guest whose arrival brings disastrous consequences; and Liszt's "Dante Symphony", a choral symphony written in the high romantic style based on Dante Alighieri's journey through Hell and Purgatory as depicted in The Divine Comedy. Critic James Huneker called the latter work "the summit of [Liszt's] creative power and the ripest fruit of that style of programme music"
---
Programme
Franz Liszt (1811-1886)
Dante Symphony, S.109
Edward Elgar (1857-1934)
The Black Knight, Op.25
Cappella Lyrica
Fleischmann Choir
Cork School of Music Symphony Orchestra
Conor Palliser conductor
Soloists to be announced
---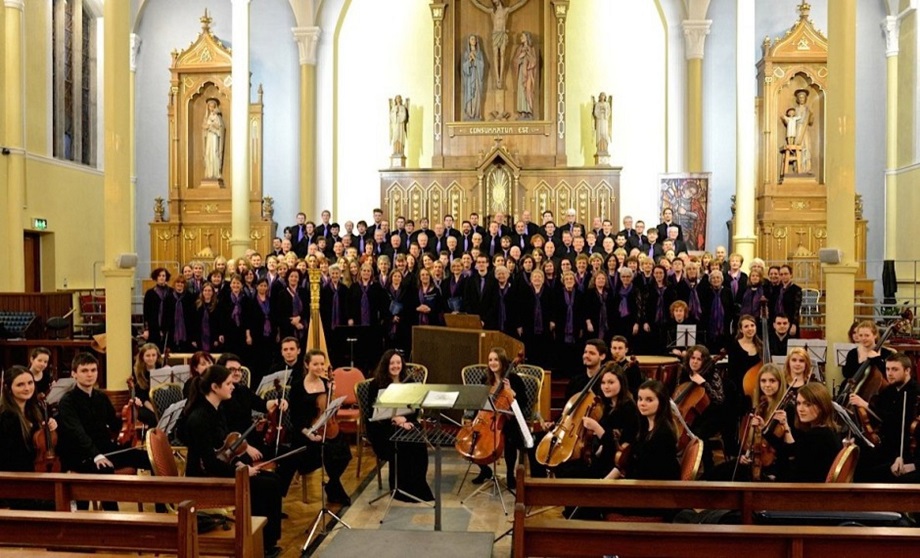 Cappella Lyrica is an equal-voice choir whose membership is comprised of students of the BMus programme at the MTU Cork School of Music under the directorship of Maria Judge. Its repertoire ranges from early music to contemporary works. Cappella Lyrica sang in public for the first time in early 2011 participating in the first performance in Cork of Britten's St Nicholas Cantata.
The choir have established a relationship with new music in the commissioning of composer, David Wallace, a former graduate and Composer-in-Residence to the MTU Cork School of Music, to write a work for Equal Voice Choir and two Horns. The work entitled Impressions of Light to text by Walt Whitman was performed for the first time in January 2013. In January 2014, Cappella Lyrica gave the first performance of Five New Love Songs for Seraphim by C. S. L. Parker with Harpist, Aisling Ennis and in 2015, the first performance of Lux Aeterna by Richard Rudkins, who is currently undertaking an MA in Composition Programme at the CSM and was awarded the PM Group Fellowship in Composition (2014-16).
In December 2015, the choir performed Britten's Ceremony of Carols with Harpist, Claire O Donnell. Cappella Lyrica's programmes also regularly feature the compositions of established Irish composers and those works in the Irish language. In competitive performances at the Cork International Choral Festival, the choir were awarded 1st Prize in the Premier National Competition in 2012 and in 2013 and 2014, 1st
prize in the Female-Voice competition, as well as the Trofaí Cuimhneacháin Philib Ui Laoghaire in 2013 for performance of a work in the Irish Language, and most recently, 1st prize in the Sacred Music competition and the Dr Patrick Mc Cormack trophy for the most outstanding a cappella performance at the 2016 Limerick Church Music Festival.
The Fleischmann Choir was founded in November 1992. Initially called the Cork School of Music Symphony Orchestra Chorus, it sang in public for the first time on 22 April 1993 when it gave a concert with the RTÉ Concert Orchestra in Cork's City Hall to mark the opening of the 40th Cork International Choral Festival. The programme was of music by Aloys Fleischmann – one of the founders of the Cork International Choral Festival and its long-serving Festival Director – who had died the previous year. Shortly after this concert, with the permission of the family, the choir was renamed in memory of the man who did so much to further the cause of choral music and choral singing in Ireland. The choir was then led until 2013 by founder-conductor Dr Geoffrey Spratt (Director of the MTU Cork School of Music and Founder-Conductor of the Irish Youth Choir and Canticum Novum).
The Fleischmann Choir is a large, mixed-voice choir which specialises in singing large- scale works for choir and orchestra. In recent years it has performed Beethoven's Mass in C, Berlioz's Grande messe des morts [Requiem] (in both Wales and Ireland) and Te Deum, Borodin's "Polovtsian Dances" from Prince Igor, Brahms' Ein deutsches Requiem & Nänie, Bruckner's Te Deum, Angel Climent's Missa solemne & Motet: Caro mea, Dvorák's Mass (in both Germany and Ireland), Fauré's Requiem, Fleischmann's Clare's Dragoons & Song of the Provinces, Grieg's Incidental Music for Peer Gynt, Handel's Messiah, Zadok the Priest & Chandos Anthem No.1, Haydn's Missa in tempore belle, The Seasons & The Creation, Hummel's Alma virgo, Bryan Kelly's Africa, Mathias's Ave Rex, Mozart's Requiem & Coronation Mass, Orff's Carmina Burana, Poulenc's Gloria, Stainer's The Crucifixion, Vaughan Williams' Serenade to Music and Hodie, Verdi's Missa da Requiem (in both Germany and Ireland) and Vivaldi's Dixit Dominus & Gloria.
Initially under the direction of the School's former Head of String Studies, Adrian Petcu, the Cork School of Music (CSM) Symphony Orchestra has developed from relatively modest beginnings as a chamber orchestra more than twenty-five years ago to become hailed in the national press as 'the finest orchestra of its kind in Ireland'. The continuous tradition of high-standard playing is indebted both to its founder and to the leadership of Dr Geoffrey Spratt who conducted the group for nearly twenty years. The orchestra continues to go from strength to strength under the guidance of its current conductor, Conor Palliser. The orchestra owes a great deal of gratitude to the high-class training that is issued in all areas at MTU Cork School of Music.
Its regular performances in Cork are complemented by visits to venues throughout Ireland and abroad. The orchestra has twice taken part in the International Festival of Youth Orchestras held annually in Valencia, Spain, and successfully pioneered the concept of 'Proms' concerts in Cork. It has commissioned works from a number of Irish composers – most notably John Kinsella, whose Symphony No. 7 it premiered in 1999. More recently it gave performances of orchestral works by Séamas de Barra, David Wallace and Sam Perkin. It has also recorded scores by Stephen Parker for award- winning films: 'Poker Nights' (2004) and 'Forty shillin' shame' (2008).
Performances in recent years have included Dvořák's Symphony No. 8, Sibelius' Symphonies Nos. 1 and 5, Tchaikovsky's Symphonies Nos. 1, 5 and 6, as well as concertos by Brahms, Elgar, Glazunov, Haydn, Schumann and Shostakovich. Many of the orchestra's past members now hold positions in some of the leading orchestras across the globe.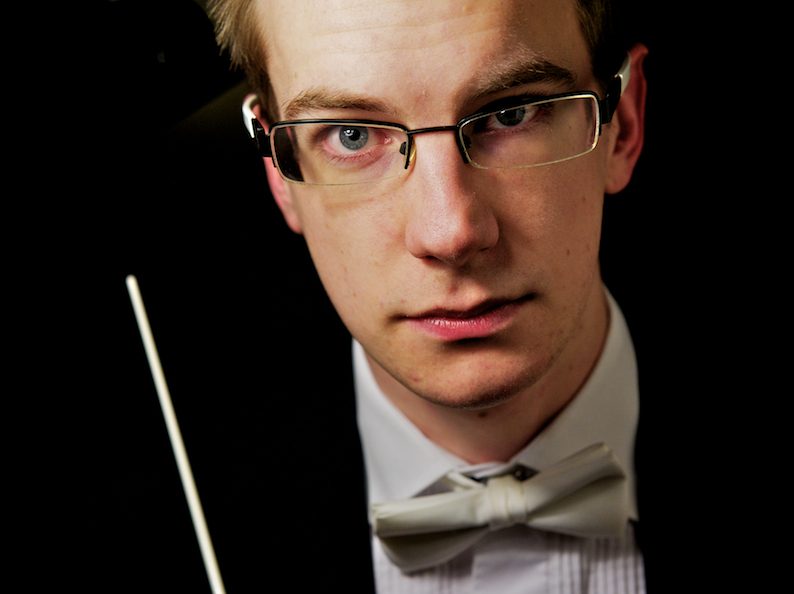 Conor Palliser has quickly established himself as one of Ireland's leading young conductors. He is the conductor of the Irish Symphonic Wind Orchestra, the 140- member Fleischmann Choir, the Cork School of Music (CSM) Symphony Orchestra and chorus master to the Cork Operatic Society. He is also a highly regarded French horn player, pianist, répétiteur and educator. He is on the staff of MTU CSM as conductor, lecturer, piano tutor and coach accompanist.
Conor has been guest conductor to the RTÉ National Symphony Orchestra (including a national tour in 2015), the RTÉ Concert Orchestra (including a performance in the presence of President Michael D. Higgins as part of the Easter 1916 anniversary festivities) and the Ulster Orchestra. Following his Carnegie Hall debut with the New York Concerti Sinfonietta in 2017, the Epoch Times wrote that Conor is an 'outstanding Irish conductor'. He has guest conducted the Cork Concert Orchestra, the Cork Philharmonic Winds, was a former conductor of the CSM Wind Ensemble and has been a brass tutor for the National Youth Orchestra of Ireland for many years. Conor also frequently runs workshops for both national and international amateur orchestras and choirs.
Conor is an advocate for bringing previously unheard works to Irish audiences and often performs music of Irish composers including Linda Buckley, Aloys Fleischmann, John Gibson, John Kinsella, Simon O'Connor, Pierre O'Reilly, Seán Ó Riada, Sam Perkin, and Bill Whelan.
---