Saturday 10th June 2023 | 7.30pm
Aula Maxima, University College Cork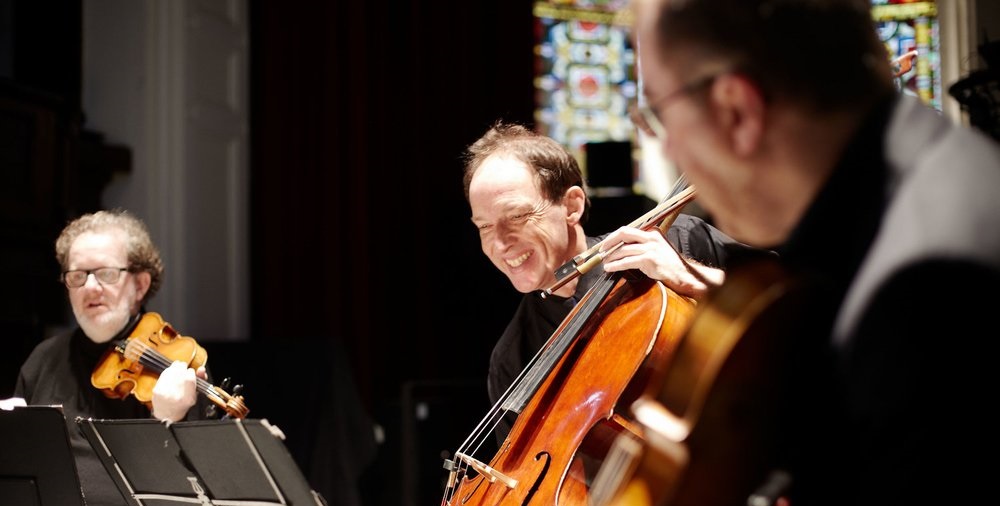 The Vanbrugh – Keith Pascoe, Simon Aspell and Christopher Marwood – and a plethora of special guests present the annual Summer Gala Concert in support of the National String Quartet Foundation. Featuring Marja Gaynor (violin), Ed Creedon (viola), Maria O'Connor (cello), David Whitla (double bass) and Anna Jansson (piano); plus the all-star Solas Quartet; the young Irish musicians of the Everygreen Quartet; and from Ukraine, the five Yershovy sisters (4 violins plus cello). Introduced by Evelyn Grant.
---
Tickets:

Premium seating: €40 (COS members: €35)*
General admission: €30 (COS standard members: €25)
Concessions:
€20
(COS concession members: €15) 

* Limited Premium Seating. Book now to secure your seats in the front section of the Aula Maxima.
---
Programme:
Beethoven: Quartet in C minor Op.18 No.4 – i) Allegro ma non tanto
Everygreen Quartet: Aisling Martin and Sean Hurley (violin), Conor Galvin (viola), Oscar Casey (cello)
Mozart: Eine Kleine Nachtmusik – i) Allegro
Albinoni: Adagio (arr. Kseniia Yershova)
Skoryk: Melody (arr. Kseniia Yershova)
The Yershova Sisters: Yevlalia Yershova, Olena Yershova, Nataliia Yershova and Kseniia Yershova (violins) and Sofiia Yershov (cello)
Boccherini: Quartet in D major G.177 – i) Presto
Jessie Montgomery: Strum
Mendelssohn: Quintet in B flat Op.87 – i) Allegro vivace
Solas Quartet: Katherine Hunka and Marja Gaynor (violin), Cian O Duill (viola) and Aoife Nic Athlaoich (cello), with Ed Creedon (viola)
Schubert: Quintet in A major, 'The Trout' – i) Allegro vivace
Vanbrugh and friends: Keith Pascoe (violin), Simon Aspell (viola) and Christopher Marwood (cello), with David Whitla (double bass) and Anna Jansson (piano)
Tchaikovsky: String Sextet in D minor 'Souvenir de Florence'
Vanbrugh and friends: Keith Pascoe and Marja Gaynor (violin), Simon Aspell and Ed Creedon (viola), Christopher Marwood and Maria O'Connor (cello)
---